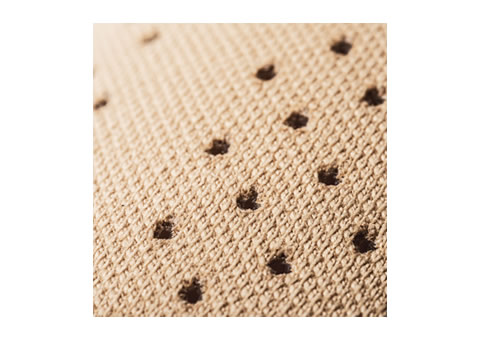 Laser Perforations
Optimally sized pores distributed uniformly along the length and distal end of the liner permit the escape of moisture. Use with a one-way valve on the socket helps to generate a better vacuum and more secure fit.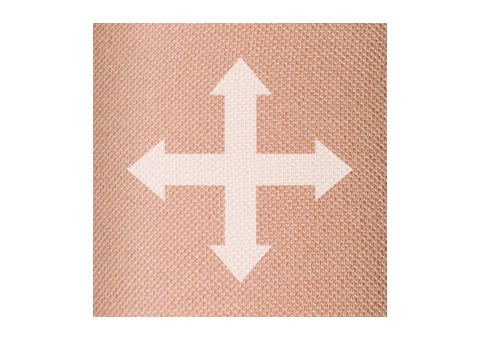 Stretch Zones
Seamless knitting technology provides bi-directional stretch to improve comfort and contouring and reduce shear force on the knee as it flexes.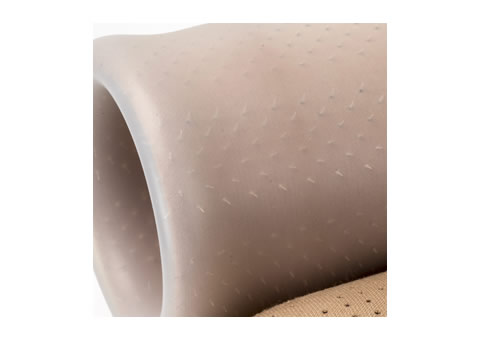 TendresseTM Finish
Provides a lower coefficient of friction than standard silicone, reducing shear stresses on the skin.
Silcare Breathe Locking Liner Video
Breathable Technology
The patented technology of Silcare Breathe works by letting the air and perspiration that are often trapped between the liner and skin to escape through specially designed laser drilled perforations.
The air and moisture are then expelled from the socket as the wearer walks, resulting in drier skin and a healthier environment for the residual limb. This helps to increase comfort and control, and reduce the damaging effects of relative motion on damp tissues that are often encountered with standard prosthetic liners.
Locking System
Locking system and unique one way valve create an airtight seal between the skin and the inner surface of the liner. No separate suspension sleeve is required with Silcare Breathe Locking liner contributing to a cooler environment for skin and a more comfortable limb and socket connection.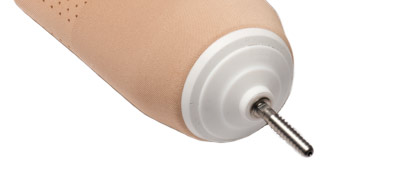 Silcare Breathe Technology
The body cools by moving blood flow closer to the surface of the skin, and when this is not sufficient the body produces sweat to increase cooling by evaporation.
The need to regulate body temperature is greater for amputees, and a lack of temperature regulation can have severe negative effects.

The Silcare Breathe range has been designed to tackle these issues. Laser drilled perforations transmit moisture away from the skin to ensure a comfortable, cool and secure fit for the user.
Reduced relative movement between stump and liner
Enhanced proprioception
Enhanced comfort
Drier, cooler, healthier skin
1 Seymour,R. Prosthetics and Orthotics: Lower Limb and Spinal. Philadelphia: Lippincott, Williams and Wilkins 2002,
2 Hagberg K, Brånemark R. Consequences of non-vascular trans-femoral amputation: a survey of quality of life, prosthetic use and problems. Prosthetics and Orthotics International. 2001; 25(3):186-94.
3 Peery JT, Ledoux WR, Klute GK. Residual-limb skin temperature in transtibial sockets. Journal of Rehabilitation Research & Development. 2005; 42(2):147-54.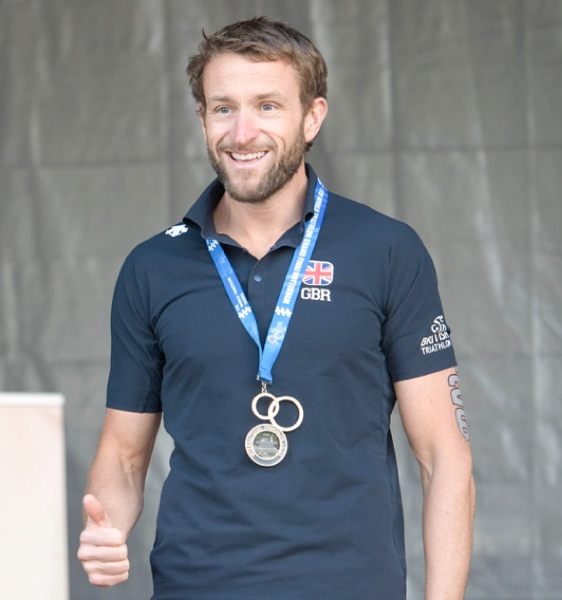 Steve
"I literally called it the 'Holy grail' as it's been a product that I had been waiting for since becoming an amputee 8 years ago!"
"If you're an active amputee that has struggled with the build-up of sweat in your liner, I would recommend this product."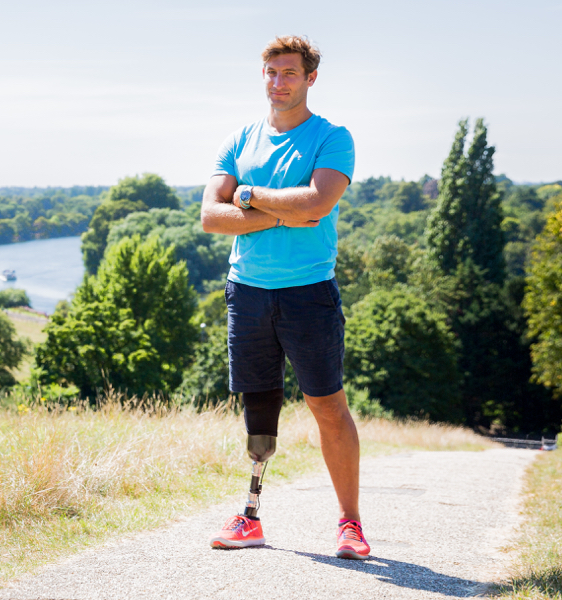 Charlie
"I normally have to stop several times to empty my liner and dry off my stump throughout the race."
"The Silcare Breathe Liner is a fantastic product, it's great for taking the sweat away which adds to that confidence and security."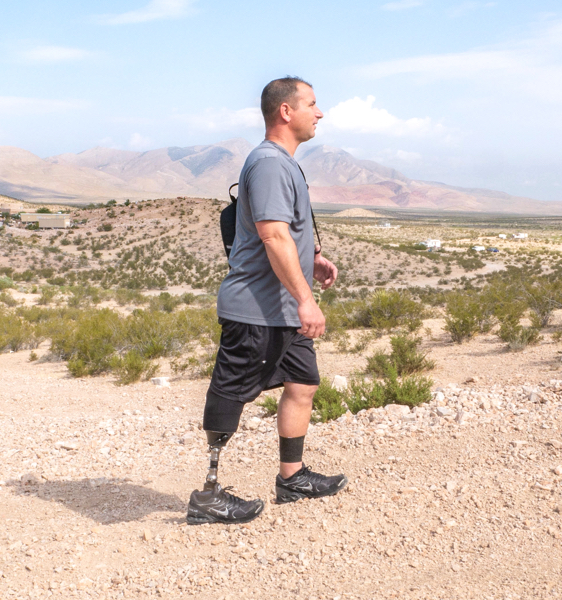 Dennis
"It's the best product out there, I can't see anything out there that compares to the way it works."
"Due to the perforated holes in the liner, it draws moisture away from my limb while I'm walking and is much more comfortable without the skin breakdown".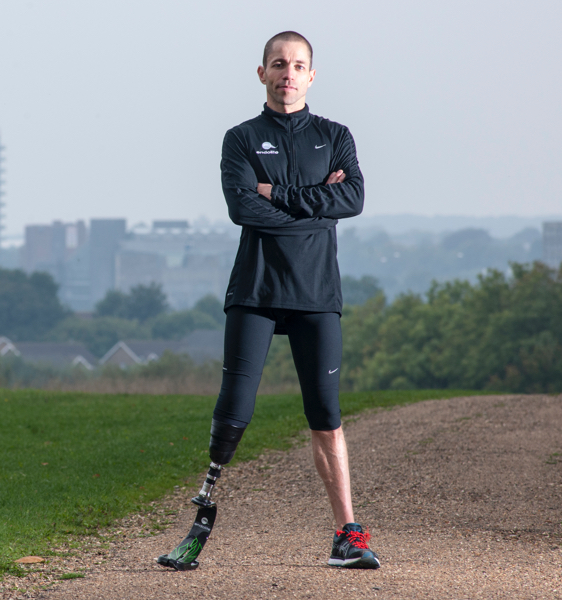 Adrian
"Silcare Breathe makes a huge difference – I can walk around without having to take my leg off to dry my limb."
"It's much more secure, and feels much better. Using the Liner I don't have to think so much about what I'm doing and I can just get on with enjoying the things that I love."
Cassie
"The very first time I used Silcare I was really surprised how dry and secure I was in it. When I'm running I'm held in the socket and a lot more stable"
Clinical Evidence
Researchers at Blatchford in the US and UK have recently published a report evaluating the outcomes of three patients with residual limb skin problems, when they switched from their previous prescriptions to perforated Silcare Breathe liners.
All of the cases experienced a substantial reduction in sweating on their residual limb and their skin problems resolve – some in as little as three months. The improved environment within the prosthetic socket allowed them to wear their limbs unaffected by the issues that had previously caused them to restrict activities and prosthetic limb use.
View the paper "The influence of perforated prosthetic liners on residual limb wound healing: a case report".
Silcare Breathe Locking Liner Documentation
Amputation Level:
Trans-tibial
Sizes Available:
22, 23.5, 25, 26.5, 28, 30, 32, 34, 36, 40
Example
| | | | | |
| --- | --- | --- | --- | --- |
| SB | TT | CP/LP | XX | L |
| Product Code | Trans-tibial | Cushion/Locking Parallel | Size | Light Tone |
Note: 23.5 = 23 and 26.5 = 26
An annual visual inspection is recommended. Check for visual defects that may affect proper function. Maintenance must be carried out by competent personnel.
Blatchford trademarks.
Last updated: 22nd October 2019