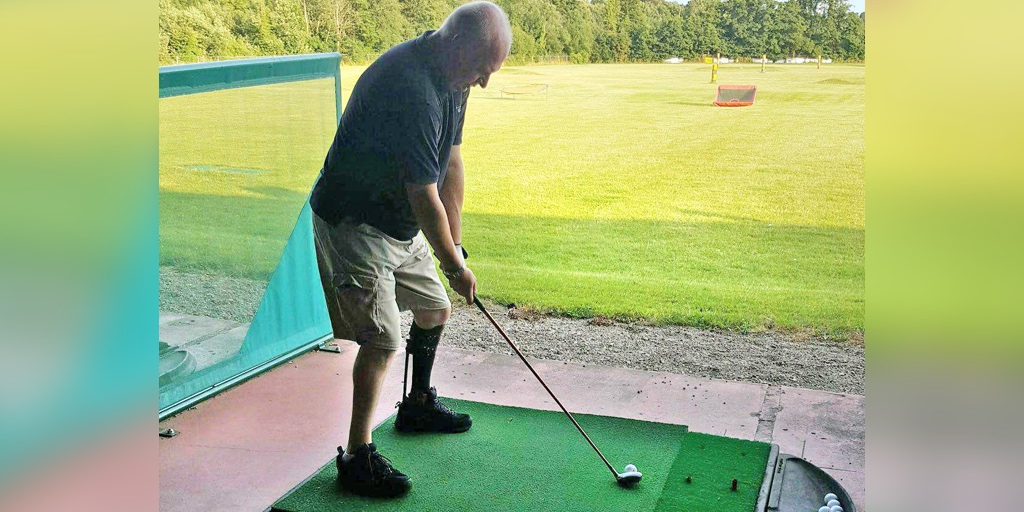 Ben was on tour in Afghanistan several years ago when he sustained a serious ankle injury. After multiple surgeries and considerable pain, Ben is now up and running again with a new Momentum brace from Blatchford.
A partial detonation of an improvised explosive device, in October 2011, shattered Ben's calcaneus. Over the next few years he underwent several operations, initially to pin his heel together and then to fuse his sub-talar joint. He also had several Cortisone injections to ease the pain. Despite this, Ben's mobility was severely restricted and even using a walking stick he was unable to walk further than a mile without excruciating pain.
After being born with Club Foot, the Momentum brace is helping Gareth enjoy golfing pain-free for the first time in years.
Gareth was born with Congenital Talipes Equino Varus (Club Foot), a condition where babies are born with one or both of their feet pointing downwards and turned inwards. In Gareth's case, both of his feet were affected and he has undergone several operations throughout his life, leaving him with limited mobility and pain after physical activity.
Gareth's favourite hobby is golfing; he loves to play and has done regularly for decades. However, the repetitive twisting motion involved has caused further problems with his left foot, leaving him in severe pain after each round of golf and for several days afterwards. Gareth tried various orthotic devices and joined a flat golf course. He also underwent 3 more surgeries and even considered amputation. Unfortunately, nothing Gareth tried helped with his pain and, in 2014 Gareth gave up his golf membership.
Shortly afterwards, Gareth heard about the Momentum brace. He saw videos of people with similar conditions to him able to run again pain-free after being fitted with Momentum. Momentum is an innovative custom carbon fibre AFO. Designed to partially offload the foot and ankle to stabilise and relieve pressure and pain following complex lower limb injury. With carbon fibre struts that work much like prosthetic running blades, it stores and returns energy to enable participation in high impact activities such as running.
Gareth visited Blatchford Clinic and was fitted with his Momentum. Soon after, Gareth's wife, Julie, commented, "Gareth can't thank the staff and Blatchford enough for the change it's made to his life already and only a few weeks in wearing his brace! We only returned yesterday from our travels up North, to walk the Open Golf Championship course (in Royal Birkdale). Waking up yesterday with no pain whatsoever is only something Gareth has dreamed of, since being born with club feet. We've also been to the golf range, to formally try his golf swing, wearing the Momentum, again with no pain after!"
Gareth is now able to walk, stand for long periods and play golf with little to no pain or swelling in his foot. He is able to play golf on consecutive days, something he couldn't have considered before wearing the Momentum due to the pain and recovery time needed. He was even able to run on a treadmill for the first time in 20 years. Gareth commented, "I wasn't expecting such a great result from the Momentum; my pain has almost completely gone."
More Information
Momentum Clinic
Momentum Offloading Brace
About Blatchford